Season 3 (2004)
Edit
Season 3 had a total of 20 episodes, and was broadcast in mid-2004. It was the only series to feature on CITV in a regular daytime slot, rather than a prime-time slot. However, once again, two episodes were shown long after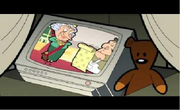 the series should have finished.
Episode #
Title
Original air date
33
"Cat Sitting"
November 6, 2004
After Mrs. Wicket breaks her leg, Mr. Bean is forced to look after her pet cat, Scrapper.
34
"The Bottle"
May 10, 2004
Mr. Bean attempts to retrieve his antique ship-in-a-bottle after he mistakenly takes the ship-in-a-bottle by the milkman.
35
"Art Thief"
November 7, 2004
Mr. Bean mistakes someone for an art thief.
36
"Scaredy Bean"
May 11, 2004
Mr. Bean runs into a selection of movies. He finds in his dreams where he seeks the help for Mr. Tiny to defeat the villains.
37
"Bean In Love"
May 12, 2004
A mean security guard prevents Mr. Bean from getting to see Roxy, a hot and sexy singer whom Mr. Bean has a crush on.
38
"Double Trouble"
May 13, 2004
When an identical 'Bean' arrives, Irma becomes puzzled between who is the real Mr. Bean and who is the fake Mr. Bean
39
"Hopping Mad!"
May 14, 2004
Mr. Bean deals with a frog infestation while Mrs. Wicket entertains important guests.
40
"A Grand Invitation"
May 17, 2004
Mr. Bean is invited to a posh country house after he is believed to have saved a dog.
41
"A Royal Makeover"
May 18, 2004
Mrs. Wicket takes over Mr. Bean's flat after he redecorates it in the style of Buckingham Palace.
42
"SuperMarrow"
May 19, 2004
Mr. Bean competes against his neighbours in growing a watermelon.
43
"A Running Battle"
May 20, 2004
Mr. Bean enters himself in a local marathon in an attempt to impress Mrs. Wicket's elderly friends. Tutati, his diabolical neighbor dog, ruins the race after the dog bites Mr. Bean's leg.
44
"Egg And Bean"
May 21, 2004
After Mr. Beans Television antenna is have a nest with a egg inside Mr. Bean is forced to take care of a swarm of birds after they start to hatch in his gutters.
45
"Haircut"
May 24, 2004
When the local hairdresser messes up Mr. Bean's haircut, he decides to take matters into his own hands.
46
"Neighbourly Bean"
May 25, 2004
To spite his noisy next-door neighbours after he watches his favorite show, Mr. Bean records every noise they make and then plays it back at high volume during the night so that they can't sleep.
47
"The Ball"
May 26, 2004
Mr. Bean is forced to help an overweight father and son after their tennis ball becomes trapped on the roof of an elderly gentleman.
48
"Toothache"
May 27, 2004
Mr. Bean attempts to remove a loose tooth.
49
"In The Pink"
May 28, 2004
Mr. Bean foils a duo of fraudsters who are selling a worm-eating rodent as a special breed of badgers in a local pet store.
50
"Dinner For Two"
May 31, 2004
Mr. Bean destroys the centrepiece of a his meal during a romantic evening.
51
"Treasure!"
June 1, 2004
Mr. Bean discovers that a missing jigsaw piece and a treasure map could be connected in some way.
52
"Homeless"
June 2, 2004
Mr. Bean is kicked out of his flat when Mrs. Wicket misinterprets his being hidden under a blanket to be perversion. He eventually is allowed back when she thinks he fought off a real predator.